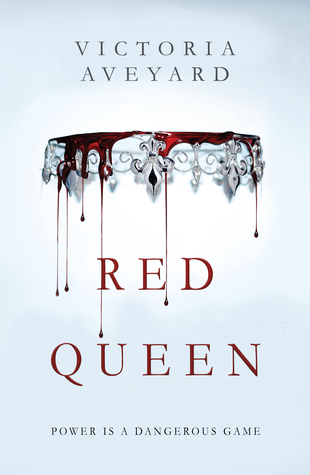 Title: Red Queen
Author: Victoria Aveyard
Synopsis: This is a world divided by blood – red or silver.
The Reds are commoners, ruled by a Silver elite in possession of god-like superpowers. And to Mare Barrow, a seventeen-year-old Red girl from the poverty-stricken Stilts, it seems like nothing will ever change.
That is, until she finds herself working in the Silver Palace. Here, surrounded by the people she hates the most, Mare discovers that, despite her red blood, she possesses a deadly power of her own. One that threatens to destroy the balance of power.
Fearful of Mare's potential, the Silvers hide her in plain view, declaring her a long-lost Silver princess, now engaged to a Silver prince. Despite knowing that one misstep would mean her death, Mare works silently to help the Red Guard, a militant resistance group, and bring down the Silver regime.
But this is a world of betrayal and lies, and Mare has entered a dangerous dance – Reds against Silvers, prince against prince, and Mare against her own heart..
Rating: 4 and a half stars
Review: This is a book that's been on my TBR for what seems like forever, but finally I got my mitts on a copy to read – score! Two days later, this review is born.
What were my first impressions upon reading it? It's similar to other dystopian YA books I've read – Divergent, the Hunger Games, etcetera- but it's still different and unique enough to grab my attention. I was very quickly absorbed into the story, and the characters were very real to me.
Speaking of the characters, I have very strong opinions about them. Very strong. Evangeline is a bitch, Farley is epic and awesome, and Mare is the type of girl I would probably veer away from in school in case I got on her bad side. Cal is the Head-Boy type, strong and responsible, whereas Maven's definitely a dark horse. Don't underestimate him.
I loved the whole power-type thing – it reminded me a little of the Casters in the 'Caster Chronicles' actually. As much as I hate a lot of the Silvers in this book, I would kind of love to have the power to control water. That would be very useful.
However, it was a great book and I loved it, but it didn't quite make me fangirl over it and lose my head like I have done with other books. That's why I have only given it four and a half stars. Nonetheless, I am very eager for the sequel next year. It's going to be epic!