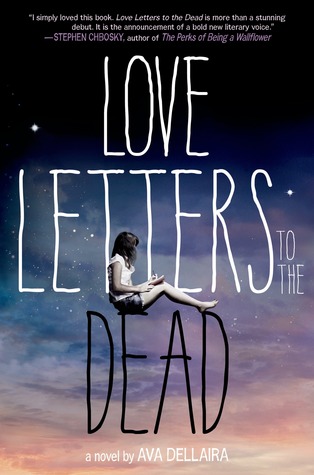 Title: Love Letters To The Dead
Author: Ava Dellaira
Synopsis: Laurel chooses Kurt Cobain because her sister, May, loved him. And he died young, just like May. Soon, Laurel has a notebook full of letters to the dead—to people like Janis Joplin, Heath Ledger, Amelia Earhart, and Amy Winehouse—though she never gives a single one of them to her teacher. She writes about starting high school, navigating the choppy waters of new friendships, learning to live with her splintering family, falling in love for the first time, and, most important, trying to grieve for May. But how do you mourn for someone you haven't forgiven?
It's not until Laurel has written the truth about what happened to herself that she can finally accept what happened to May. And only when Laurel has begun to see her sister as the person she was—lovely and amazing and deeply flawed—can she truly start to discover her own path.
Rating: 4 Stars
Review: This was the only book I got from the library last week, but I was pleasantly surprised once I opened it. Sort of a copycat book, but since it is so similar to another book I really like, I'll let it slide.
Seriously though, this book has so many similarities to 'The Perks of Being A Wallflower' that it would take a lifetime to list them. However, here are some:
The main character Laurel is basically Charlie, only instead of her best friend killing himself, it's Laurel's older sister committing suicide, and instead of being molested by a relative, she gets done by her sister's old boyfriend's mate.
Natalie and Hannah are pretty much Patrick and Brad, the closeted gay couple – one who wants to come out and be open about their love, and the other who gives way too many fucks (excuse my French) about what everyone thinks.
May, the older sister whom everyone pretty much expects Laurel to live up to –  AKA the equivalent of.
Being roofied at a party.
The similarities go on and on, but I won't list them all. In short,  it's really close to Stephen Chbosky's novel, but like I said, I don't mind because I love 'Perks of Being A Wallflower.'
I genuinely do like this novel on its own though, because it deals with a lot of serious issues – sexuality, first love, child abuse, and just being a teenager in general. Being a  teenager is like a magnet for trouble – I know that more than most – but this book deals with those issues in a way that's poignant and almost lyrical. However, I did find it a little morbid that she's writing all these letters to dead celebrities. That was one of my only faults with the book.
This is a book that I wouldn't necessarily recommend, since it's so close to 'Perks of Being A Wallflower', but I did enjoy reading it, and finished it within a few days. Read 'Perks' first, and then try this, and you'll see the similarities yourself.
~~~~